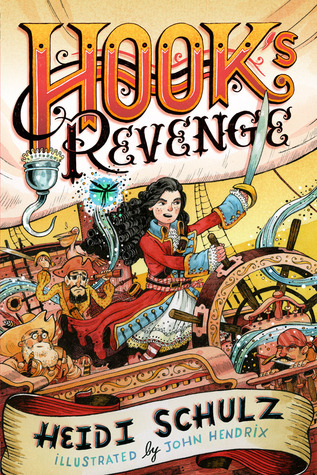 So much fun! Capt James Hook has died and his only heir is his daughter, Jocelyn. She has been instructed to avenge her father's death by killing to crocodile. But she is conflicted….she has lived with her grandfather ever since her mother's death and he has now sent her off to finishing school to become a proper lady. This is an OBOB title for 2016-17 and I think the kids will have so much fun with it!

      What would you do if your parents were supervillains?  Not every family has zombies living in their basement and not every family has a gyfted kid.  The Dread Duo are doing their best to take over the government while still allowing their son, Joshua, to attend school and make friends.  One day, Joshua discovers his gyft and his world changes yet again.  Book one introduces us to Captain Justice who chases the Dread Duo all over the country.  But is a supervillain always a villain???  And is a superhero always a hero?
   This was a super quick read and to be honest, before it got added to the OBOB list I had never heard of the book or the author. I love when you find something that grabs you enough that you will want to continue on with the series! I think the kids in OBOB will really like this book.
   Historical fiction is not my favorite genre but true to OBOB form, it forces you to try something you might not try…Kate Messner has written some really great stuff (Marty McGuire for starters) and I decided to do this one as a read aloud for library classes.  The kids are engaged and asking questions and those who are participating in OBOB are finding information that may be useful.  This series is up to book 3 currently.