and all through the town, people were scurrying and running around.
Well, not this person.  I opted to work today so that I didn't have to use vacation time for my traditional "Black Friday" mayhem.  The library is slow and quite calm at the moment…which lends me a grand opportunity to get some reading done (now I'm questioning my choice as I could have been reading at home all day, in the comfort of the love seat:-)
Here are a few I happened upon: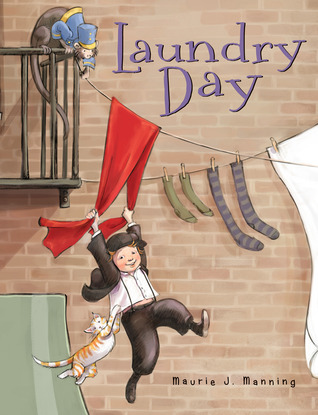 Told in an almost graphic novel format, this happened to be out of order on the shelf and, well, since I had it in my hand I may as well read it. A shoe shine boy in the big apple finds a piece of red fabric and he sets out to find the owner. While no one will give him the time of day when he asks if they need their shoes shined, when he starts to ask the neighbors if the lovely red fabric belongs to them, he finds people to be kind and welcoming. The best part of the book??? The glossary in the back that defines some words that we may not know from other cultures.
Anytime you have the chance to give a kid a book dealing with history, jump on it! This book about Betsy Ross talks about what she is most known for…making the American flag. In the back are instructions for making a Betsy Ross star. In this day and age of technology, I find it so refreshing to go back in time through a book.
While the story itself didn't grab my attention, what did was the use of simple shapes to create a "matrix" of robots (I didn't know what a group of robots was called so I cha-cha'd it. Other terms include gestalt, borg and drove). Recently I read a blog that when doing storytime, you should send something home with the kiddos to help them reinforce what you did…seeing as that I have run out of time to do crafts, this pre-made package of robot shapes might be the answer!
Told in rhyming text, this crazy story by Margaret Mahy may just make it to my story time shelf. The illustrations by Polly Dunbar are quite fun and sometimes you just need something silly.